Explanation
Thank you for visiting
What kind of company is Toa Koki?

Toa Koki is mainly engaged in the manufacture of the ship engine component known as "cylinder liners."

However, the term "ship" includes a wide variety of types of vessels. Specifically, Toa Koki manufactures engine components for extremely large ships. For example, ships such as the ones shown below in the photos that carry large amounts of cargo or large numbers of passengers require very large engines. Of course, these engines need to be reliable. They cannot stop or malfunction in the middle of a voyage. If an engine's ship were to stop in mid-voyage, the ship would lose propulsion, which would make it unable to control the direction of the ship, leaving it in danger of grounding or other major accident. The many craftsmen at Toa Koki spend each and every day making the components that go into ships that are entrusted with the lives of large numbers of people.




Large ships carry enormous amounts of cargo throughout Japan and indeed throughout the world. Shipping is cheaper than air transport, and the fact that a very large amount of cargo can be transported on a single ship allows a wide variety of goods to be available to people around the world.

Did you know that 99% of the cargo imported into Japan from overseas is transported by ship?

For information about the importance of the shipping industry as well as the structure and different types of ships,please visit the Japanese Shipowners' Association (clicking will open a new window).

What is a cylinder liner?

It is one of the indispensable parts for a ship engine.Three in four large Japanese ships and one in three ships in other countries that transport goods and people are equipped with cylinder liners manufactured by Toa Koki.

About Cylinder Liners

Cylinder liners are the cylindrical components within which pistons slide as they are propelled by the explosive power of the engine. Airtightness must be maintained for this process to work. The burning and exploding fuel causes high temperatures which in turn create wear and deformation. If the cylinders deform, the pressurized combustion gas will leak. This is why engines require cylinder liners that can maintain airtightness, withstand heat, and not cause wear of itself or the piston. Still, cylinder liners are non-durable components. They require replacement every few years in order to prevent malfunction. For this reason, Toa Koki continues to manufacture cylinder liners for large numbers of ships.

Market Share

New ship large low-speed diesel engine cylinder liners
Japanese market: Approximately 90%
Global market: Approximately 40%


What kind of material is it?

Cylinder liners are mainly made of cast iron. Iron is melted in molds used for cast iron. "Castings" is the term for the objects produced from this molten iron. Cylinder liners are generally known as "iron castings." The molten metal uses a type of metal known as cast iron.

[The merits of iron castings]
+ Even items with complex shapes can be made relatively cheaply
+ Items of any shape can be made
+ Very little vibration or metallic sounds
+ Easy to hone and process


How are iron castings made?

The difficulties faced when manufacturing cylinder liners

Currently, Toa Koki's products require casting, Machining, and hand finishing technologies.

Casting requires wood models, a casting design, a method of making the mold, and good quality materials for melting. The quality of the end product is determined by these elements as well as the technical skills each technician utilizes when melting the material and removing the mold and the overall management of the process.

Machining includes more than 10 processes from rough processing to final finishing, each of which requiring the use of different machinery. As a result, it depends upon the experience of veteran master technicians as they operate the various machines, utilize various processing techniques, and select their tools.

Hand finishing is a craft that workers perform on parts of the product that cannot be processed using machinery. It includes many difficult techniques such as planing surfaces. High proficiency in techniques for testing finished products and analyzing materials is also required. Toa Koki's products are the final result of all these highly-advanced techniques and skills. The high degree of skill and experience required means that it is not easy for new companies to enter the industry.
Toa Koki's Contributions to Local Communities and Kashima City
Regional contribution
Bunka no Michi ("Culture Street")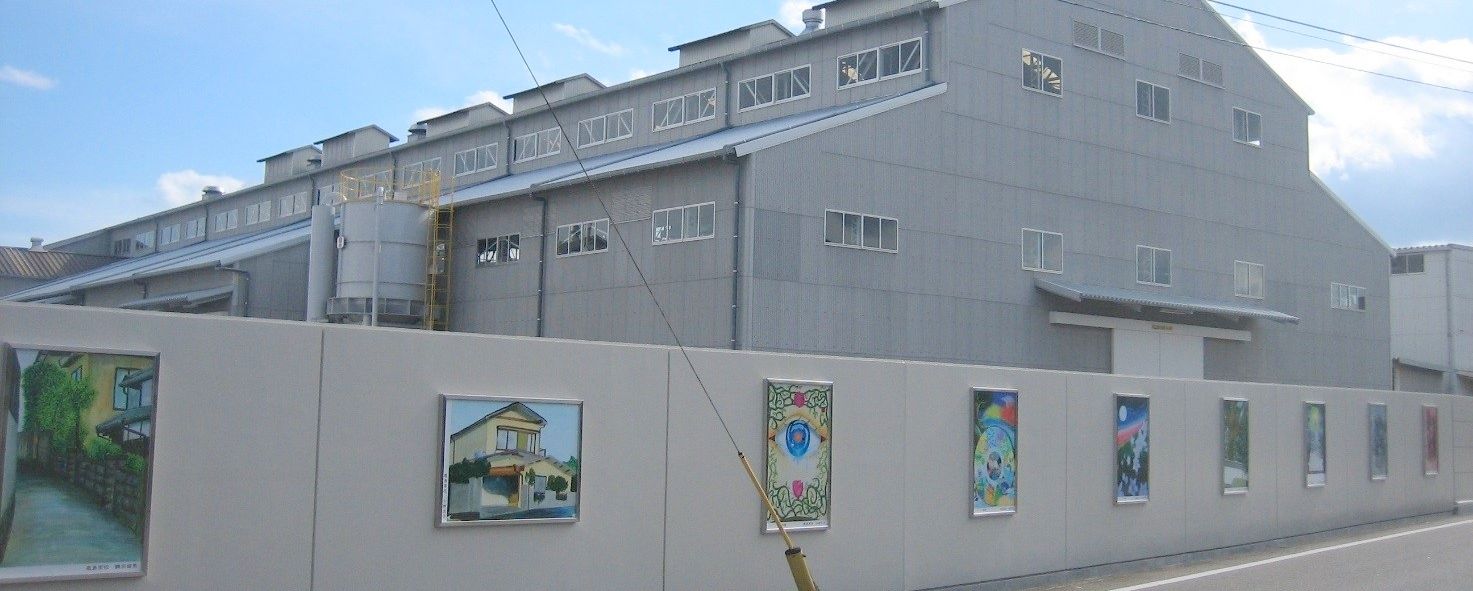 As part of its social contribution events to commemorate the resumption of production at its Yokota Factory, in 2008 Toa Koki exhibited 17 artworks made by students in the Art Club at Kashima High School on an external factory wall that faces out onto a local street and renamed the street "Bunka no Michi," or "Culture Street." On November 14 of that year Bunka no Michi was unveiled, and currently 44 prints of artworks measuring 78 x 110 cm created by high school, junior high school, and elementary school students in Kashima City are on exhibit. The artworks on exhibit are periodically changed in this "outdoor art museum" that provides enjoyment to local residents who walk past the company's factory.
Reconstructing a Cannon

In 1977 Toa Koki received a request to reconstruct a 24-pound cannon used by the Saga Clan at the end of the Edo Period (1603-1868) from the Saga Prefectural Federation of Machine and Metalworking Industry Associations and the Saga Prefectural Museum. In September of that year, two cannons were completed.
The two cannons were installed on the grounds of Saga Municipal Nisshin Elementary School, which is thought to be the site of the Tsukiji Reverberatory Furnace of the Saga Clan, and in front of the Saga Prefectural Museum, located in Jonai, Saga City.
In 1980 Toa Koki reconstructed a 150-pound cannon, which is now kept at Saga Shinto Shrine in Saga City.
---

Every year the "Reverberatory Furnace Festival" is held in Saga City by the Saga Prefectural Federation of Machine and Metalworking Industry Associations to commemorate the first lighting of a Western-style reverberatory furnace in Japan by the Saga Clan, which took place on December 12, 1850.
The highlight of the festival is the commemorative firing of the 24-pound cannon reconstructed by Toa Koki in 1977.
The cannon is moved from its location at Saga Municipal Nisshin Elementary School to the edge of the moat in the Jonai section of Saga City (where Saga Castle is located). Participants light the cannon's fuse and the air is filled with the orange glow of sparks and the rumble of the cannon's blast.
The event provides an opportunity to think about the achievements of the pioneers in the Saga Clan who introduced Western technology to Japan at the end of the Edo Period and worked hard to catch up to the West.
Why are ship components being manufactured in Kashima City?
The Pacific War (1941-1945)
At the end of the Pacific War there was a sudden necessity to manufacture a large number of warships. As a result, the Koyagishima Shipyard of Kawanami Industries received an order from the government to increase production. At the time, Kawanami Industries was in the midst of planning to increase the number of subcontractors it worked with.
The horrors of the Pacific War were being felt in the Kashima area as well, as student mobilization and conscription was taking boys to war zones. At this same time, sake breweries in the Kashima and Hama sections of Kashima City were being converted into military evacuation centers.
Five Volunteers
In 1944 a local volunteer named Toraichi Iizuka announced his intention to establish a factory in Kashima City in order to aid the Pacific War and contribute to the development of industry, and he began seeking cooperation in this project.
Two men offered their support: Hirosuke Katsuya and local politician Toki'ichiro Aino.
A total of five men, including Town Mayor Maeyama and Hideo Koga, visited the Koyagishima Shipyard at Kawanami Industries, where Hirosuke Katsuya's younger brother was employed.
They met the president of Kawanami Industries and explained their intention to establish a military supplies factory. The president immediately sympathized with their intentions and on the very same day requested that their new production factory include processes such as iron casting and Machining so that it could function as one of his company's subcontractors.
Starting from a Brewery
The volunteers met and decided to set up factory and office facilities in the Izaki Sake Brewery in Kashima, which they borrowed, thus founding Toa Koki Co., Ltd. in June 1944.
On September 1, 1944 the first casting was performed in the new facility. Materials and technical guidance were provided by Kawanami Industries.
The war ended in August 1945. Technicians who learned wood modelling, casting, and machinery at naval arsenals and who worked at the military evacuation centers (sake breweries, etc.) in Hama, Kashima were employed by Toa Koki. The company received raw materials and machinery from the evacuation centers and used them to begin production of civilian consumer goods (pots, rice-cookers, etc.) as well as potbelly stoves for the Occupation Force and the National Railway, among other organizations.
Toward the Manufacture of Ship Engine Components
Toa Koki took on the challenges of manufacturing components with highly-advanced manufacturing technologies. The tireless efforts of the technicians who had come from navy arsenals led to the creation of high-quality components that were second to none.
This marked Toa Koki's entrance into ship engine component manufacturing. Beginning in August 1950, Toa Koki started business with major Japanese shipyards such as Mitsui Engineering & Shipbuilding Co., Ltd.'s Tamano Shipyard. This was followed from 1955 by Mitsubishi Heavy Industries, Ltd., Hitachi Zosen Corporation, IHI Corporation, Sumitomo Heavy Industries, Ltd., and Kawasaki Heavy Industries, Ltd., among others.
In January 1955 Toa Koki started doing business with the Tokyo trading company Asahi Kogyo (later known as Asahi Kikai Keiso, and still later known as Asahi Koeki). Subsequently, Asahi Kogyo acted as an agent for business activities with major Japanese shipyards. Asahi Kogyo was also instrumental in Toa Koki's business with overseas companies. In February 1964 a contract was signed with the US company ABC, Inc. for the manufacture and export of diesel components, and in March 1970 an order and sales contract for European-bound products was entered into with the UK company River Plate Shipping after a visit to Europe by Managing Director Kataoka (Asahi) and Toa Koki's Managing Director (at the time) Ishii. Business dealings with Asahi ended with the bankruptcy of that company in February 1978, and as a result Toa Koki began dealing directly with overseas companies, a practice it still adheres to today.
An Outstanding Workforce
Since 1950 our workforce of technicians has come mainly from Saga but includes people from other regions as well (Kyushu University, Kyushu Institute of Technology, Saga University, Yamaguchi University, Miyazaki University, National Institute of Technology Sasebo College, Kurume National College of Technology, and others). We also have continuously hired outstanding technicians who have graduated from Saga Prefectural Ureshino High School (Shiota Campus), Saga Prefectural Kashima High School, Saga Prefectural Saga Agricultural High School, Saga Prefectural Tara High School, and Saga Prefectural Saga Technical High School. These workers are the source of Toa Koki's superior quality.
Initiatives to Protect the Environment
ISO14001
As a manufacturer that uses integrated production from the materials stage to the finished product, Toa Koki promotes the reduction of environmental impact and the use of measures to prevent environmental pollution in its production of cast iron products such as ship and land-use components in Kashima, a city blessed with the abundance of nature.
Toa Koki has included in its Basic Corporate Philosophy plans to protect the abundance of the local natural environment as it engages in its business operations. In June 2014 the company received ISO14001 certification in environmental management for the protection of the natural environment.
Factory in the Middle of the Forest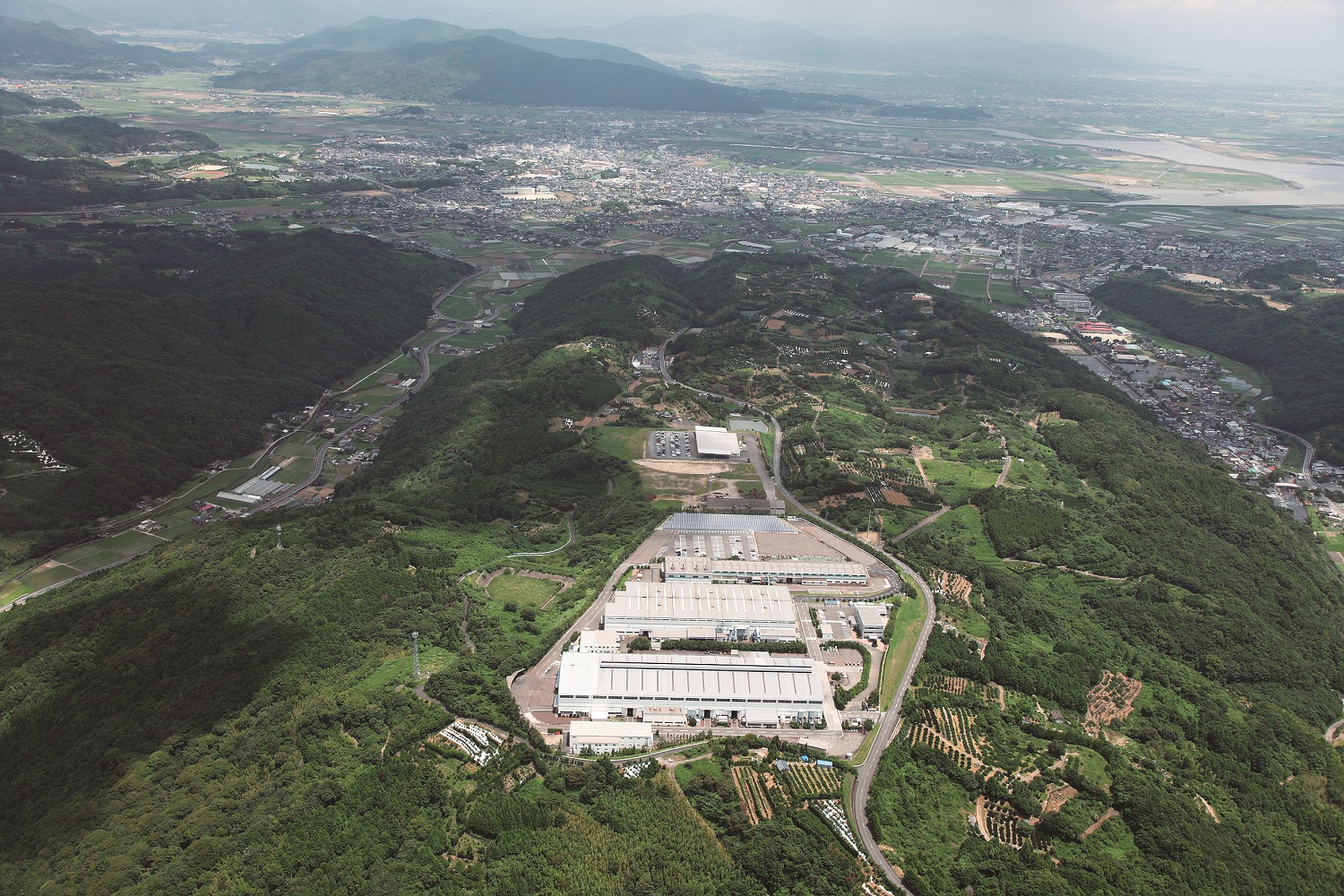 Since June 1944 Toa Koki has continued operations along the Nakagawa in Kashima City. In order to both expand the factory facilities and improve the workplace environment, in 1992 the Casting Division and some parts of the Machine Division were transferred to the current Tanda Factory.
The facility was moved to a plateau surrounded by mountains and facing the Ariake Sea that is home to a wide variety of wildlife such as hares and small birds. In 2004 the Head Office and the remaining sections of the Machine Division were all moved to the Tanda Factory. The company factoryed a large number of trees on the land surrounding the buildings, thus creating a "Clean Foundry" factory in the middle of a forest.
Moreover, within the factory buildings we not only naturally separate all our waste, but we also reuse risers that result from the casting process and the chips and other refuse that are produced when product surfaces are planed, we water trees with rain water that we collect in tanks, we return raw waste to the ground as fertilizer after organic decomposition, and we proactively recycle.
On-Site Practices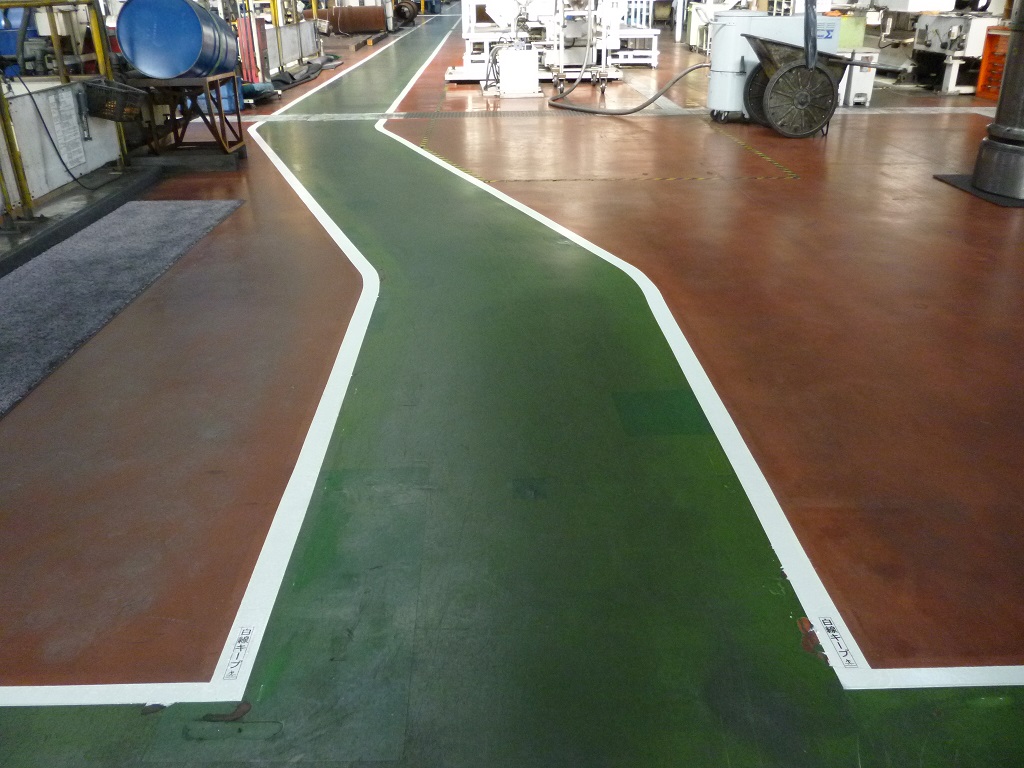 Since 2006 Toa Koki has practiced the "5S" workplace organization methodology (5 Japanese words that begin with "S" when transliterated into English: "Seiri" or Sorting, "Seiton" or Systematic organization, "Seiso" or Cleaning, "Seiketsu" or Neat and Organized, and "Shitsuke" or Following rules and procedures). This has allowed us to maintain an even cleaner environment than before and develop a "White Line Practice" (prohibiting employees from stepping on the white lines) in our facilities. In addition, after morning assembly each month on the first and fifteenth of the month, all our employees gather garbage in the buildings, weed the grounds, and clean the areas surrounding the roads leading to the factory grounds.
One of our three safety rules is "Each person does his or her designated task," which encourages employees to always maintain a neat and clean environment in the factory buildings. Our goal is to create and maintain workplaces that visitors will be impressed with. We are always happy to show the public the workplaces we maintain so proudly.
Transportation information
Instructions for First-Time Visitors
The TOA KOKI Headquarters at the Tanida Factory is to the left of the main gate. Please visit the Guard House first. There are no special parking spots reserved for visitors, so please park after entering via the main gate and complete the admission procedure.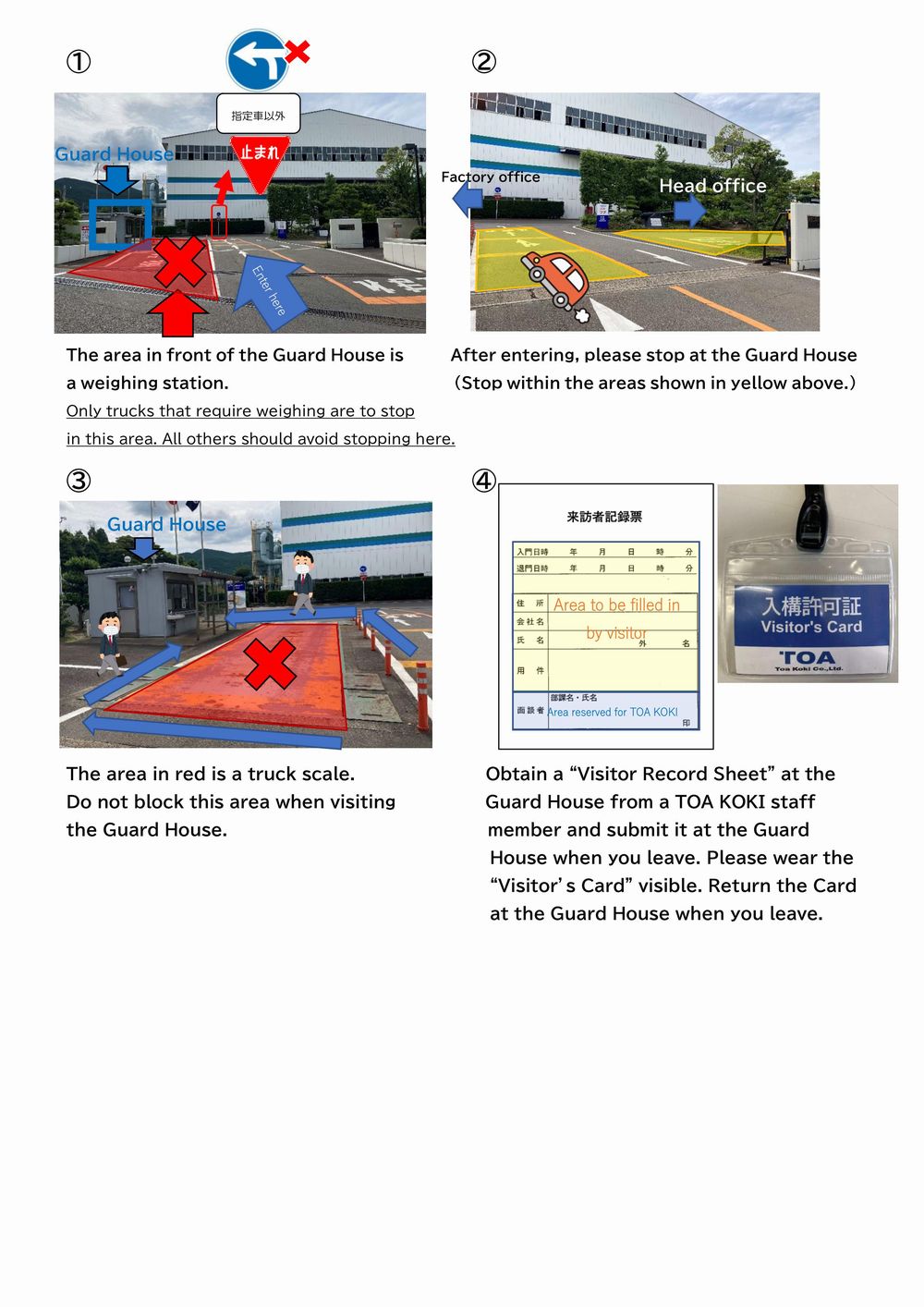 Transportation information
Visitors arriving by airplane
Saga Airport→Approximately 1 hour by car (limousine taxi available)
Click here for details→[KYUSYU-SAGA International AIRPORT (saga.lg.jp)]
Fukuoka Airport→[subway (approx. 5 mins)]→Hakata Railway Station→[Limited Express Train (approx. 1 hour)]→Hizen Kashima Railway Station
Omura Airport→approx. 1 hour by car
●Visitors arriving by JR (Japan Railway)
Nagasaki Line: Get off at "Hizen Kashima Railway Station"→[Taxi (approx. 15 mins)]
●Visitors arriving by car
Approx. 30 mins from Takeo-Kitagata IC
Be safe on your way here.